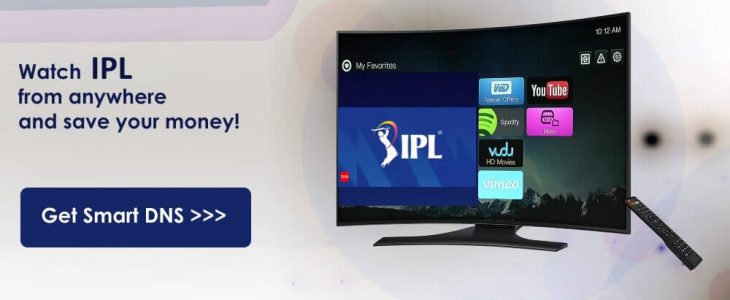 Pakistan is really neighbor to India. And it is obvious that a big diaspora of Indian people is living and working in Pakistan today. Surely, most of them need some solution to unblock and watch IPL from Pakistan. That is all because services like IPL and Hotstar are only available from India and some other countries but not Pakistan. To watch IPL from Pakistan you need a tool like VPN or Smart DNS. Please read below and you will find a simple solution to watch IPL in Pakistan.
With Smart DNS you can watch your favorite sports not only in Pakistan but watch IPL in UAE as well.
Probably you already know about VPN for changing IP, but not many Internet users are aware of SMART DNS service.
Smart DNS is a technology based on using your DNS (Domain Name Server) to bypass Geo-restricted sites and services and lets you access IPL, Hotstar, Star Sports and other blocked content from Pakistan, Bangladesh, Nepal, UAE, Saudi Arabia, Oman, Pakistan, Australia, and any other country.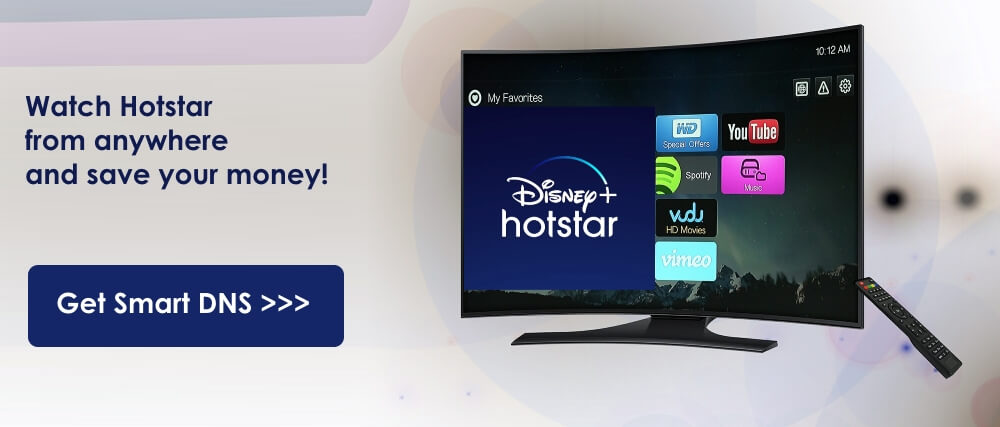 Benefits of Smart DNS using:
Smart DNS directs only a part of your traffic. Unlike VPN Smart DNS does not slow down your Internet.
Smart DNS is much cheaper than VPN.
GET YOUR AEROSHIELD SMART DNS FREE TRIAL.
How to setup Aeroshield Smart DNS to access IPL from Pakistan
3 steps to Watch IPL live outside India
First of all you need to authorize your local IP to use our Smart DNS and then setup it on your device.
Click Add button to authorize access from your current IP (detects automatically).
To setup Smart DNS on your device please review the instructions HERE.
Choose your device and follow the instructions.
For Indian TV:
All the others DNS IP must be deleted.
Leave only our smart DNS IP.
Clear cache and cookie files in your browser (in case if you access IPL and Hotstar using a browser).
IPL April May 2022 Schedule
| | | | |
| --- | --- | --- | --- |
| DC vs PBKS | 20-Apr-22 | 7:30 PM | MCA Stadium, Pune |
| MI vs CSK | 21-Apr-22 | 7:30 PM | DY Patil Stadium |
| DC vs RR | 22-Apr-22 | 7:30 PM | MCA Stadium, Pune |
| KKR vs GJ | 23-Apr-22 | 3:30 PM | DY Patil Stadium |
| RCB vs SRH | 23-Apr-22 | 7:30 PM | Brabourne – CCI |
| LSG vs MI | 24-Apr-22 | 7:30 PM | Wankhede Stadium |
| PBKS vs CSK | 25-Apr-22 | 7:30 PM | Wankhede Stadium |
| RCB vs RR | 26-Apr-22 | 7:30 PM | MCA Stadium, Pune |
| GT vs SRH | 27-Apr-22 | 7:30 PM | Wankhede Stadium |
| DC vs KKR | 28-Apr-22 | 7:30 PM | Wankhede Stadium |
| PBKS vs LSG | 29-Apr-22 | 7:30 PM | MCA Stadium, Pune |
| GT vs RCB | 30-Apr-22 | 3:30 PM | Brabourne – CCI |
| RR vs MI | 30-Apr-22 | 7:30 PM | DY Patil Stadium |
| DC vs LSG | 1-May-22 | 3:30 PM | Wankhede Stadium |
| SRH vs CSK | 1-May-22 | 7:30 PM | MCA Stadium, Pune |
| KKR vs RR | 2-May-22 | 7:30 PM | Wankhede Stadium |
| GT vs PBKS | 3-May-22 | 7:30 PM | DY Patil Stadium |
| RCB vs CSK | 4-May-22 | 7:30 PM | MCA Stadium, Pune |
| DC vs SRH | 5-May-22 | 7:30 PM | Brabourne – CCI |
| GT vs MI | 6-May-22 | 7:30 PM | Brabourne – CCI |
| PBKS vs RR | 7-May-22 | 3:30 PM | Wankhede Stadium |
| LSG vs KKR | 7-May-22 | 3:30 PM | MCA Stadium, Pune |
| SRH vs RCB | 8-May-22 | 3:30 PM | Wankhede Stadium |
| CSK vs DC | 8-May-22 | 3:30 PM | DY Patil Stadium |
| MI vs KKR | 9-May-22 | 7:30 PM | DY Patil Stadium |
| LSG vs GT | 10-May-22 | 7:30 PM | MCA Stadium, Pune |
| RR vs DC | 11-May-22 | 7:30 PM | DY Patil Stadium |
| CSK vs MI | 12-May-22 | 7:30 PM | Wankhede Stadium |
| RCB vs PBKS | 13-May-22 | 7:30 PM | Brabourne – CCI |
| KKR vs SRH | 14-May-22 | 7:30 PM | MCA Stadium, Pune |
| CSK vs GT | 15-May-22 | 3:30 PM | Wankhede Stadium |
| LSG vs RR | 15-May-22 | 7:30 PM | Brabourne – CCI |
| PBKS vs DC | 16-May-22 | 7:30 PM | DY Patil Stadium |
| MI vs SRH | 17-May-22 | 7:30 PM | Wankhede Stadium |
| KKR vs LSG | 18-May-22 | 7:30 PM | DY Patil Stadium |
| RCB vs GT | 19-May-22 | 7:30 PM | Wankhede Stadium |
| RR vs CSK | 20-May-22 | 7:30 PM | Brabourne – CCI |
| MI vs DC | 21-May-22 | 7:30 PM | Wankhede Stadium |
| SRH vs PBKS | 22-May-22 | 7:30 PM | Wankhede Stadium |
| QUALIFIER 1 | TBD | 7:30 PM | Ahmedabad |
| ELIMINATOR | TBD | 7:30 PM | Ahmedabad |
| QUALIFIER 2 | TBD | 7:30 PM | Ahmedabad |
| FINAL | 29-May-22 | 7:30 PM | Ahmedabad |