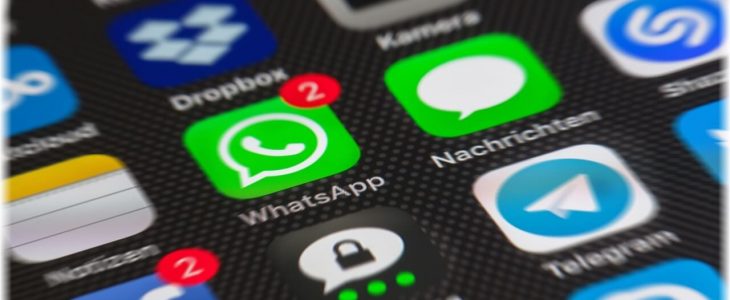 Internet censorship in Qatar is not a new problem. Many different websites are blocked in the country. Among restrictions are politically sensitive topics, adult, gambling and others. How to Unblock sites in Qatar and stay safe, secure and protected online even in public Wi-Fi zones?
The most secure and simple solution to unblock websites in Qatar is using a vpn service.
According to Reporters Without Borders, Qtel (Qatar Telecom — government telecommunications service provider )
"has the means to spy on messages sent through the other ISPs."
A U.S. State Department Human Rights report said that the government of Qatar censors the Internet through a proxy server that monitors and blocks Web sites, e-mail, and chat rooms through the state-owned ISP.
Internet censorship in Qatar
Social media sites like:
Youtube
Facebook
Messenger, voice and video calls:
Skype
Viber
WhatsApp
Line
IMO
Blogging platforms
Tumblr
Some E-mail services
Political and conflict/security areas
Political filtering is limited, but journalists usually avoid reporting on sensitive issues. This is mostly content that tends to critique major Middle Eastern authority figures.
Many websites are blocked
Adult content:
pornographic
gay and lesbian content
sexual health resources
reproductive health
dating and escort services.
adult sexual content is all forbidden because the Idea of sex is bad in Islam.
Some religious concerned websites
Privacy and circumvention tools are restricted in Qatar.
Besides that, a lot of non-obscene or non-offensive Web sites are also blocked in the country.
Internet censorship in the country is regulated by Qatar cyber Crime Law. Below you can find forbidden online activity:
Create or manage a website to spread false news in order to jeopardize the safety of the state, its general order and its local or international peace (penalty: up to three years in prison and/or a maximum fine of QR500,000);
Spread, air or publish the false news with the same intentions (penalty: up to one year in prison and/or a maximum fine of QR250,000);
Violate any social values or principles, or publish news, pictures, audio or video recordings related to the personal or family life of individuals — even if it is true (penalty: up to a year in prison and/or a maximum fine of QR100,000);
Libel or slander another person online or by using IT equipment (penalty: up to a year in prison and/or a maximum fine of QR100,000).
Service providers must also "block any websites or links when asked by judicial entities.They have to keep users information for a year and temporarily keep record of electronic information, traffic data or content information for 90 days that can be renewed at the request of the investigating entity.
Fortunately, there are several simple solutions which can help to access any blocked website while you are in Qatar or other Gulf Country.
Before considering the solutions how you can unblock sites in Qatar we need to understand how internet limits work in this country.
9 Simple Ways to Open Blocked Sites in Qatar
Use Proxy service
Proxy unblocker is probable the most popular solution used to bypass Internet censorship. Proxy is a computer that acts as an intermediary for requests from clients seeking some information. User connects to the proxy, requesting some service, such as a file, connection, web page, or other resource available from a different server and the proxy gives a result.
Proxy can only mask your IP address while VPN (see below) not only hides real IP but also encrypts all the traffic sent via VPN tunnel.
Communication between two computers (shown in grey) connected through a third computer (shown in red) acting as a proxy. Bob does not know to whom the information is going, which is why proxies can be used to protect privacy.
Pros and Cons of using Proxy in Qatar:
+ This solution works to unblock sites
– proxy is not very safe
– Most free proxy services are banned in Qatar.
2. Use https:// instead of http://
The second method that can help you to unblock websites in using https instead of http when you are trying to surf some website.
Pros and Cons of using https instead of http to open blocked site
+ this is free
– Works only for some sites
– Cannot help in many cases
3. Use browser extension
Another way to unblock sites in countries with Internet filtering in using Browser extension.
There are many extensions for some well known browsers like Chrome and Firefox which can help you to mask your IP address and open blocked sites. Some of them are free others are paid.
Pros and Cons of using browser extensions:
+ can help to access blocked sites
– Can collect some information from your browser
-Not safe
– Not secure
– Require additional software of your computer
4. Use third party software
Some people use special software like unblockers to avoid on-line censorship. There are many software solutions which mask your IP address and in such way help to access blocked content. This is very risky and hazardous because you cannot be sure what this software is doing on your computer besides unblocking websites. It can collect your passwords of other sensitive information. So you need to be very accurate using such tools.
Pros and Cons of using third party software:
+ unblock blocked websites
– Can steal some information from your computer or mobile device
-Not safe
-Not secure
-Require additional software of your computer
Using unblocking software is not safe for your privacy!
5. Use mobile applications
If you are using mobile devices like iPhone, iPad, Android devices you can try to install mobile vpn application like Spider VPN for example.
However, if you really care about your security it is better to avoid not certified applications and setup secure connections using standard system options like VPN.
Pros and Cons of using mobile applications:
+ help to open blocked websites
– Some applications are Not safe
-Not secure
-Require additional software of your mobile device
-Free versions show tones of advertising
6. Use wayback machine
Several years ago in works great but I am not sure it works now in Qatar. However you can try. Probable this can help you.
Pros and Cons of using mobile applications:
+ sometimes can help to unblock blocked websites
-Not safe
-Not secure
7. Try Translation services
Sometime translation services like Google translate can help to bypass Internet limits when you try to translate banned page to another service. This might help to unblock websites.
Pros and Cons of using Try Translation:
+ free solution
+ sometimes can help to unblock blocked websites
-Not safe
-Not secure
9. Use websites — unblockers
There are many sites unblockers which can help to open blocked sites. Unfortunately, most of them are blocked in Qatar. Also these services are not secure and it is better to avoid such websites if you care about your security.
This can work for some cases.
Pros and Cons of using Website Unblockers:
+ free solution
+ sometimes can help to unblock blocked websites
– Not safe
-Not secure
10.Use VPN Service
Finally we want to tell you about using a VPN solution for accessing blocked sites. This is the safest and the most secure method you can use to unblock sites in Qatar.
VPN is a virtual private network. It enables users to send and receive data across shared or public networks as if their computing devices were directly connected to the private network, and thus benefit from the functionality, security and management policies of the private network.
VPN hides you IP address and also encrypts all your traffic. Under the vpn you are anonymous and can access any site you want staying absolutely safe, secure and anonymous.
If you use VPN all your programs and tools go though VPN tunnel
VPN can be used on PC, Mac, iPhone, iPad, iPod touch, xbox, PS3, roku, and any other device that supports VPN technology.
VPN is usually the fastest, safest and the most reliable solution that works in 99.99% of cases.
You can use VPN on different devices like computers, planshets, tablets, smartphones.
Compare Different solutions to unblock any site in Qatar
How to Use VPN in Qatar
You can use VPn on different devices and we strongly recommend you to setup VPN using system features. It is better to avoid additional software.
You can setup vpn tunnel from your device in a few minutes following our VPN setup guides.
You do not need to create a vpn channel every time you need it. Once you create VPN connection you can use it just connecting to the VPN.
Using VPN in Qatar is absolutely safe and secure. VPN tunnel masks your IP address and encrypts all your traffic making you 100% anonymous and private on-line. Nobody can monitor what sites you are surfing.
Be sure that your VPN provider does not store your log files. This will make you more safe in the network.
How to Setup VPN in iOS
To setup SSL (SSTP) vpn connection in your iPhone or iPad please follow the next instructions:
1. Install Cisco Anyconnect app from App Store
2. Open Anyconnect app and in Settings section uncheck "Block Untrusted Servers" to allow it.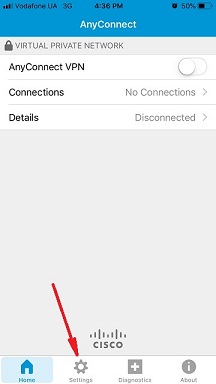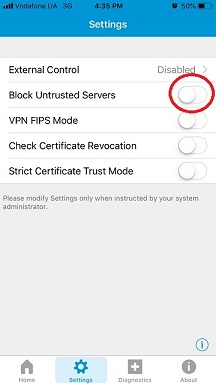 3. Back to Home, tap Connections -> Add VPN Connection.
4. Enter Description (any name) and Server Address. Tap Save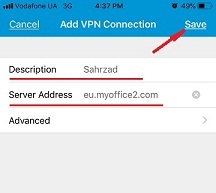 5. Swipe the AnyConnect VPN switch from OFF to ON and tap Continue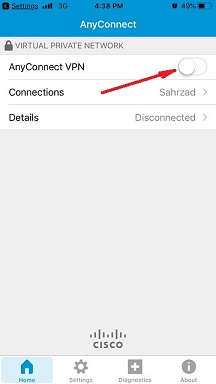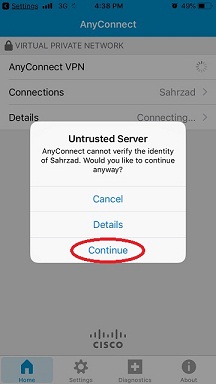 6. Input Username tap Connect, input Password and tap Connect.
7. Wait for the connection.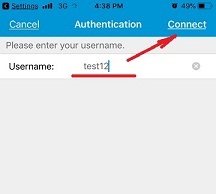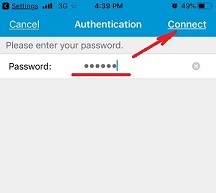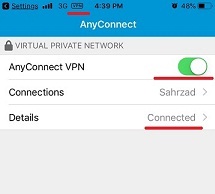 How to Setup VPN in Android
Please download and install SSTP VPN client here
Launch "VPN client pro" app on your Android device
1. Tap + icon to add new VPN connection and choose "New SSTP VPN Profile"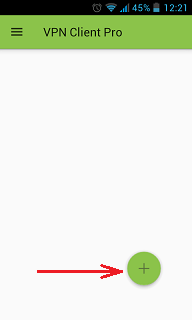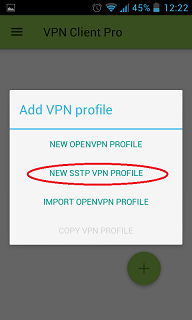 2. Input name of the VPN connection (anything you want) and tap "Remote servers"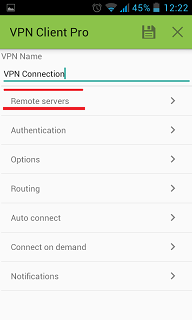 3. Tap + icon on the bottom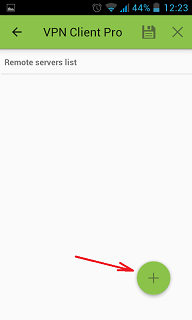 4. Input Server address that you can find in your "vpn account data" letter in the marked field and tap OK button.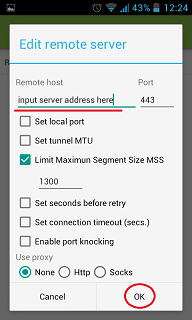 5. Server address must be exactly as in your account data (without http://, www or any other symbols)
Click the marked icon on the right upper corner to save the settings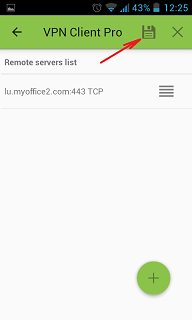 6. Swipe to the right on the right upper corner to connect to VPN server, input your username and password, tick Save and OK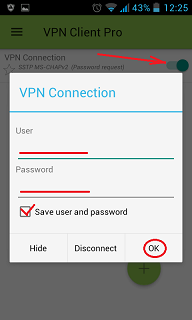 7. If everything is OK you will be connected. When you are connected to VPN, you will see an ongoing notification in the Status bar on your Android device.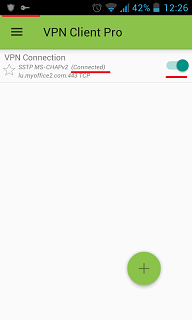 Is It Legal to Use VPN in Qatar
Using VPN technology is absolutely legal. Many companies is using VPN for security reasons and for protection business data. All depend on what you are doing on-line. There is Qatar Cyber Crime law which describe what you can and what you cannot do in the Internet.
If you are an expat living in Qatar and just want to review your favorite TV programs then using VPN is not prohibited.
But in case you are going to hack some computers or steal Credit Card data — of course this is a crime.
Besides that all VPN providers have their own terms of service which describe prohibited actions.
 Advantages of Using VPN in Qatar
1. With VPN you can open any blocked site in Qatar
2. Using VPN is safe and secure
3. VPN makes you 100% anonymous
4. VPN hides your real IP address
5. Using VPN tunnel protect you from identity theft
6. VPN connection is reliable protection from any kind of Internet fraud.
7. VPN protects you in public Wi-Fi
Benefits you get using VPN service in Qatar
1. You are safe and anonymous on the Internet
2. You can surf any website you want and stay private
3. Your real IP address is hidden
4. You can easily bypass Internet censorship in Qatar
5. Your personal and business data is protected
How to Select the Best VPN for Qatar?
Sometimes selecting a VPN provider can be complicated process. If you are not familiar with VPN technology we suggest you to consider the following factors while selecting a virtual private network for Qatar.
1. Server locations.
If you want to bypass Internet filtering in Qatar you need to change your IP address to another country. So you have to select the country fo vpn server location where there is no limits. For example, you can choose USA or Europe vpn servers.
If you need to get a specific country IP address it is better to consider only required country.
2. Speed limits
Some vpn providers restrict your speed. Video streaming requires high speed Internet connection so it is better to chose vpn provider who will not limit your speed.
3. Bandwidth limits
Some vpn providers limit your Bandwidth.
Bandwidth is an amount of data that can be carried from one point to another in a given time period (usually a second). Bandwidth limits mean some restrictions for your Internet surfing. It is better to avoid this.
Network bandwidth is usually expressed in bits per second (bps).
Internet Networks typically have speeds measured in the millions of bits per second (megabits per second, or Mbps) or billions of bits per second (gigabits per second, or Gbps).
Different applications require different bandwidths.
An instant messaging conversation might take less than 1,000 bits per second (bps)
voice over IP (VoIP) conversation requires 56 kilobits per second (Kbps) to sound smooth and clear.
Standard definition video (480p) works at 1 megabit per second (Mbps), but HD video (720p) wants around 4 Mbps, and HDX (1080p), more than 7 Mbps.
So the choice depends on your needs.
4. Encryption and security
The most popular is 128-bit encryption. However 256-bit is more reliable. Encryption level provides you security and anonymity on-line.
5. Log files
Before buying a vpn service ask if they keep log files. This is additional factor of your safety and security. No log files mean the best level of security.
6. Price
Of price is probable the most important factor for vpn service. But please remember that very cheap vpn is probable not the best solution due to safety and reliability.
7. Money Back Guarantee
If you decided to buy a vpn — read Refund policy. Good VPN Service providers have Money Back Guarantee.
8. Free trial
Free trial is a great option vpn provider can offer their customers. Using free trail vpn you can test the service before ordering. In this case customer can be sure that vpn service meets his requirements.
9. P2P/Torrents
On the chance of downloading torrents you need to read terms of service provider before buying because many vpn providers prohibit p2p activity.
10. Instructions/Customer support
If you are advanced vpn user this point is not considerable for you. But if you are a new vpn user customer support and vpn setup instructions have great importance. Some providers can even setup vpn channel on your computer via remote desktop. This is really conveniently because you can see all the process, control and study how to do that. The following providers can help you with VPN setup absolutely free!
Try this now and get all benefits of unlimited Internet in Qatar today.
Free VPN vs Paid VPN
Obviously, the price is a very important factor when you are choosing a VPN provider. But probable your privacy has higher priority.
There is a great amount of VPN providers available for your choice today. Some of them are free while others are paid. There is also a significant difference between premium vpn providers. Let's find out what is the difference between Free and Paid Virtual Private Networks provides.
Free provides do not guarantee you privacy while paid do.
Free providers show you advertising while paid not.
It is better to pay once and be sure that you are secure in the Internet.
What Can I unblock using VPN service?
Using VPN service you can easily access blocked websites in Qatar, such as:
unblock Skype
unblock Viber
unblock WhatsApp
unblock Facebook in Qatar
Unblock Youtube in Qatar
Unblock blocked sites
If you are going to Qatar either for business or for the pleasure it is better to get VPN to avoid Internet filtering and traffic monitoring.
VPN channels are usually more fast, safe and stable then others solutions.
So if you need really secured and stable connection to unblock websites in Qatar, VPN account is the best solution.
Other Sites Blocked in Qatar
Wechat Blocked In Qatar
Imo Blocked In Qatar
Skype Blocked In Qatar
Whatsapp Blocked In Qatar
Voip Blocked In Qatar
Facetime Blocked In Qatar
Skype For Business Blocked In Qatar
Whatsapp Calls Blocked In Qatar
Video Calls Blocked In Qatar
Voip Calls Blocked In Qatar
Skype Call Blocked In Qatar
Google Duo Blocked In Qatar
Facebook Blocked In Qatar
Sayat.Me Blocked In Qatar
Telegram Blocked In Qatar
Vk Blocked In Qatar